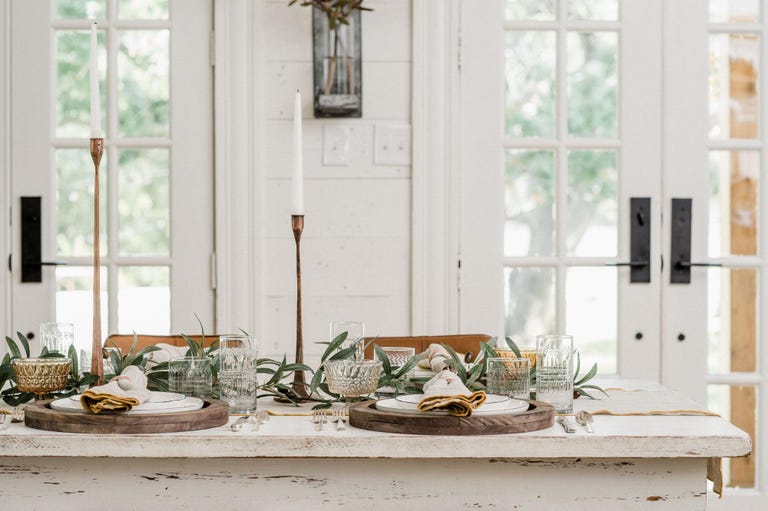 If anyone knows how to make a house feel like a home, it's Joanna Gaines. Though we're not all lucky enough to score a home makeover from the Fixer Upper couple by Thanksgiving, we can glean a couple pointers on how to elevate our table settings this holiday.
"There are two things that I think truly welcome the season of entertaining: good food and a set dining table. I really believe the table should be a reflection of the celebration." Gaines shares on the Magnolia blog At Home. The Fixer Upper star is known for her (very enviable) signature farmhouse stamp, which is basically a mixed style of rustic and contemporary. That style is exactly how she loves to dress up her Thanksgiving table, "with pieces both old and new." Here are some highlights from the post that you can try in your home:
Opt for a minimal table and look to add texture on top with fabric.
Select your runner and napkins with care! "Starting with a simple, neutral table runner makes for a good foundation that you can easily build on," she writes. The mom of 5 went for a linen runner for her table.
Don't be afraid to blend styles when choosing plates and flatware.
"I'm a big believer in blending styles in general—especially when it comes to setting the table. Layering contrasting looks like rustic chargers with modern plates, antique flatware and vintage-inspired glassware, gives the table some character and makes for an interesting overall aesthetic."
Your centerpiece doesn't have to be just one item.
The copper candlesticks she finishes with are gorgeous in their varying heights across the table. She explained, "I like to keep the centerpiece low, this way guests can easily see everyone at the table and there is plenty of room to place the food." Consider adding a faux olive garland, or fresh greenery through your centerpiece too. "The green in the garland really balances out the warm tones on the table and helps bring everything to life."